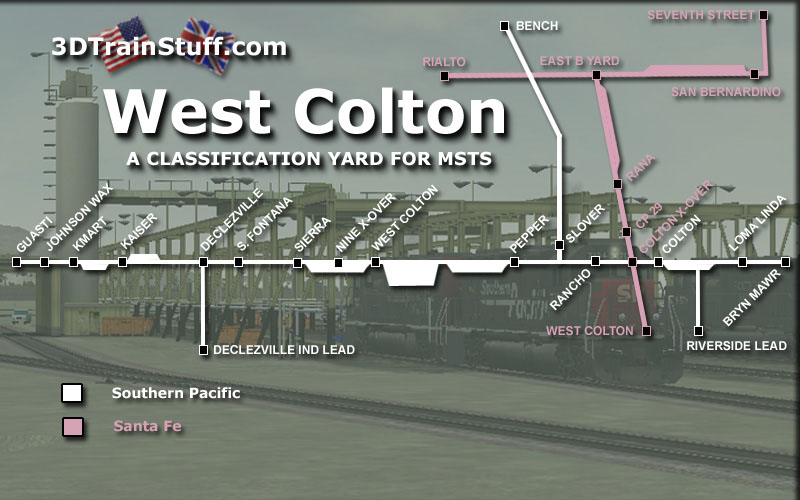 SP WEST COLTON GENERAL AREA MAP
Project Scope
This project is all about the operations in and around a huge classification yard. In this case, SP's West Colton Yard which is one of the largest on the west coast. Our route encompasses about 40 square miles and includes sections of four different Subdivisions. They are: 1) The SP Alhambra Sub which starts at West Colton and runs west to LA. 2) The SP Mojave Sub which starts at West Colton and runs north over the Palmdale Cutoff towards Mojave and Bakersfield. 3) The SP Yuma Sub which starts at West Colton and runs eastward towards Indio and Yuma. 4) The ATSF San Bernardino Sub which starts at San Bernardino and runs south/west towards West Redondo.
And we also included SP's old Colton Yard and the Santa Fe A and B Yards in San Bernardino.
The circa is from the late 70's to the mid 90's, and the track charts we used were dated 1996 which is the pre merger period before Union Pacific merged with Southern Pacific, and Burlington Northern merged with Santa Fe.
And finally, the entire route is situated next to the San Gabrial and San Bernardino mountain ranges to the north and northeast of the area which provides beautiful vistas and a dramatic backdrop for this MSTS project.
NOTE: Due to the constraints within MSTS we were unable to include every track, bridge, overpass, culvert, and road that is there in real life. For example, only the eastbound lanes of I-10 were included along the SP mainline as the project sits right in the middle of a highly populated area in southern California so it just wasn't feasible. However, with that said, we feel that we did a great job of giving users a good feel for the area.
Though we did include seasonal textures for the route, we did not include SNOW textures since it has never really snowed much at West Colton. Maybe once in the last 150 years, and that didn't stay on the ground very long. However, you will notice a big difference on the route between Summer and Winter. Summers are very dry here, hence, there is allot of dried up vegetation along the route. In the Winter during the rainy season, its just the opposite, and we feel we did a nice job duplicating that for this project.
Its also worth noting that we did not include scenery for Kaiser Steel (north of Kaiser) as there is about 30 feature assets needed to do it right. However, we did put the tracks in there, and we will consider doing an add-on in the future that would complete this area of the route.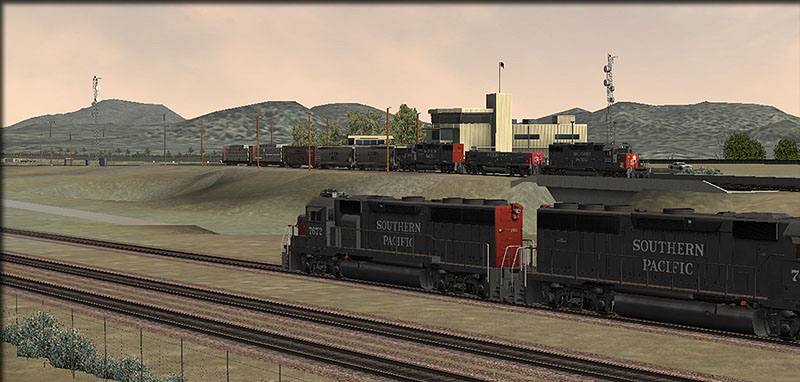 LOOKING SOUTHEAST FROM I-10 TOWARDS THE WEST COLTON HUMP AND ADMIN BUILDING
Features
*Admin Building

*Hump Tower

*Trim Tower

*Pedestrian Overpass

*MiJack Overhead Crane

*Custom SoCal Foilage

*Working Track Boards

*Diesel Wash Shed

*Diesel Sanding and Refueling
Facility

*GATX Tank Car Servicing Facility

*Old Colton Tower

*SP MoW HiRail Crane/Crew Truck

*Custom Night Textures For Realistic Night Operations

*Custom Seasonal Textures

*Performance Notes
CLICK HERE TO SEE NOTES

*Custom Defect Detectors
CLICK HERE FOR TECH NOTES

*New Accurate Switches

*Double Diamonds

*New US Vehicles and Trucks

*New Signals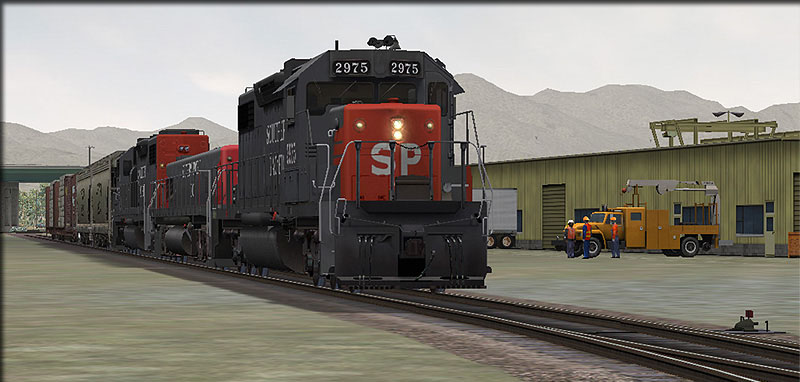 LOOKING NORTHEAST FROM THE READY TRACKS JUST NORTH OF THE DIESEL FACILITY AT WEST COLTON
Hump Operations
These jobs were called "860" and "862". The equipment used was usually three SD-38-2's or two SD-38-2's with a slug unit set in between for traction purposes. The shifts started at 6am and 2pm. Sometimes, when it was really busy, a third shift would come in at 10pm. All the shifts were 8 hours long, and you would park in the Admin Building parking lot near the hump. Your power would be waiting for you on the track next to the Admin Building's south side.
Sometimes, you would have to go down to the hostler tracks near the diesel service facility to pick up your power at the beginning of a shift.
For the most part, all bad order cars were put on track 212 in the classification bowl. A different job would pull those out once a day, usually early morning, and put them in the "one spot" repair tracks for the day car repair crews.
An interesting note concerning Receiving tracks 102-109 and 152-159: When the Hump crew goes to collect cars from both tracks to be humped (For example tracks 102 and 152) they would reference this as Track 1152.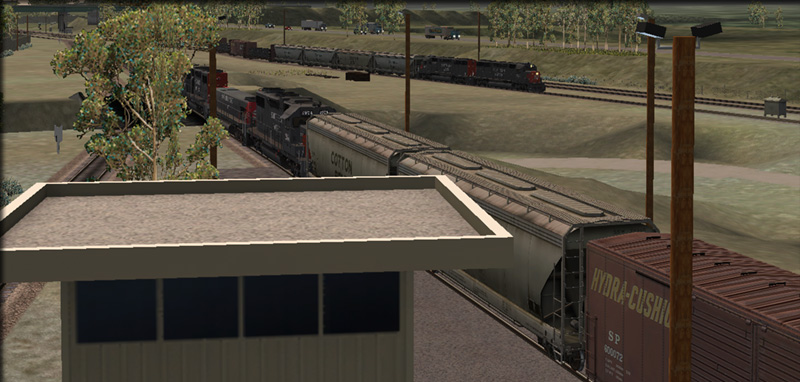 LOOKING WEST JOB 862 IS ALMOST FINISHED FOR THE DAY AS A LOCAL JOB MAKES ITS WAY BACK INTO THE YARD.
Hump crews consist of one engineer to operate the locomotive and one brakeman to make all the necessary brake line connections, couple, and uncouple the cars. Here's another interesting note regarding the "hump brakeman": They would travel back and forth through the yard in a small truck provided by the railroad. So, for example, if you had a pickup on track 1152 in the receiving yard, the brakeman would drive over there and get everything ready for the cut to be moved, usually before you, the engineer, even got there. And, once you were connected up to the cut, the brakeman would then drive back over to the hump and wait for you to get back there. The whole process usually took about 2 hours. The cuts ranged from 11K to 14K tons.
Its also important to note that there were ALWAYS two "heel" cars placed at the end of each bowl track (except for track 212) with the brakes set in order to prevent cars rolling out of the classification bowl. Heel cars never stayed very long as the Trim crews would always leave the last two cars from their cut they pulled out of a track from the classification bowl to replace the ones that they just picked up.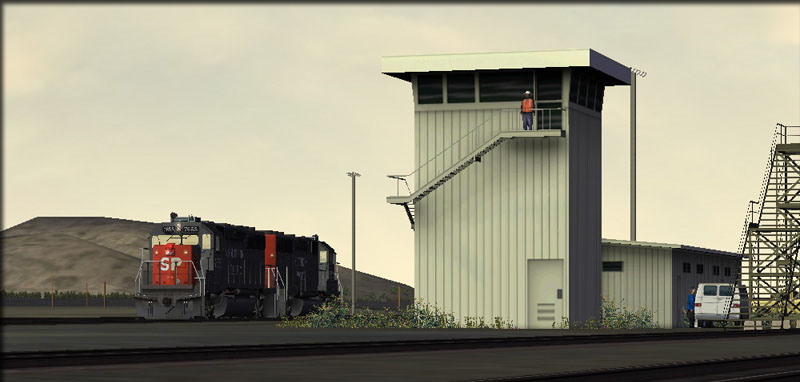 WHILE MORNING TRIM OPERATIONS GET READY TO START A TRAIN CREW GETS READY FOR BOARDING AN EASTBOUND
Trim Operations
Trim operations ran non-stop at West Colton. There were three 8hr shifts starting at 6am, 2pm, and 10pm. We are not sure what all the trim jobs were called, however, we did get a couple. The "66" job worked the Weyerhauser spur twice a day (west end of the yard), and the "50" job worked the GATX spur twice a day (east end of the yard). Crews parked their cars and started their shifts at the Trim Tower just east of the classification bowl. Crews consisted of an engineer, a switchman, and a brakeman. Their power, two GP35's or two GP40's would be waiting for them on the tracks just north or south of the Trim Tower.
Trim jobs for the most part are about putting various trains together for scheduled departures to various destinations which basically entailed pulling cuts of cars out of the classification bowl and putting them on designated departure tracks. We do know that at West Colton there were designated tracks for different trains in the Departure Yard. Unfortunately, we were unable to find out what tracks these were.
We also know that, besides the high priority trains, there were also manifest (general freight) trains that went out everyday to places like Roseville (symbol M-WCRV-DAY-MONTH) (MON=1, TUE=2, etc.), Tucson (symbol M-WCTU-DAY-MONTH), Phoenix (symbol M-WCPX-DAY-MONTH), Los Angeles (symbol M-WCLA-DAY-MONTH), etc. Note: Regarding Roseville, it was not uncommon to have two trains go out on the same day if they had too many cars for one train. This happened a lot during the harvest season April to October and the run up to the holidays in September - November.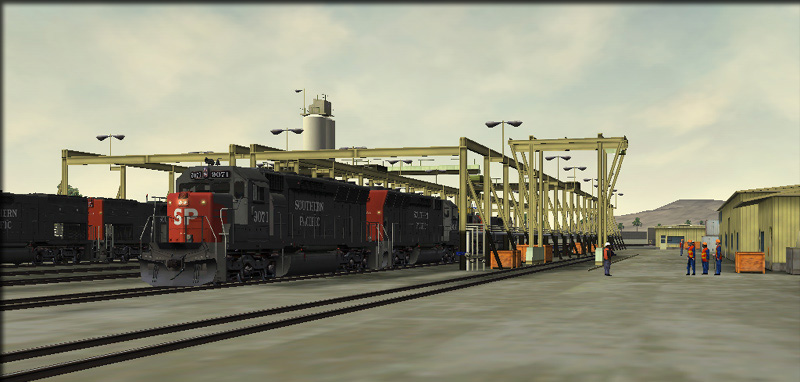 HOSTLER OPERATIONS UNDERWAY AT THE DIESEL SAND AND REFUELING FACILITY AT WEST COLTON
Hostler Operations

West Colton had quite the hostler operation going on 24/7. You had through trains coming in that required the power to be cutoff and replaced with power that had already been serviced. These kinds of tasks were usually done within 30 minutes! (Tops!) So you might have one hostler cut the incoming power off and take it to the service tracks while another hostler would take a serviced set of power from the Locomotive Ready Tracks (located northwest of the diesel facility) out to the through train and make the necessary hookups and start charging the brake system back up so the new crew could quickly get on their way. Hostlers were not only used to move sets of power around the diesel service facility, but they would on many occasions be used to take power out to designated trains and get those trains ready for their crews so they could get going as quickly as possible.
We have also heard that hostlers would two or three times a week, be assigned to take freshly serviced sets of "helpers" out to Loma Linda where they were stationed for helper service over Beaumont Pass. Then they would bring the set that was already there back to the yard for refueling and servicing.
Note: Each of the ready tracks will hold three locomotives.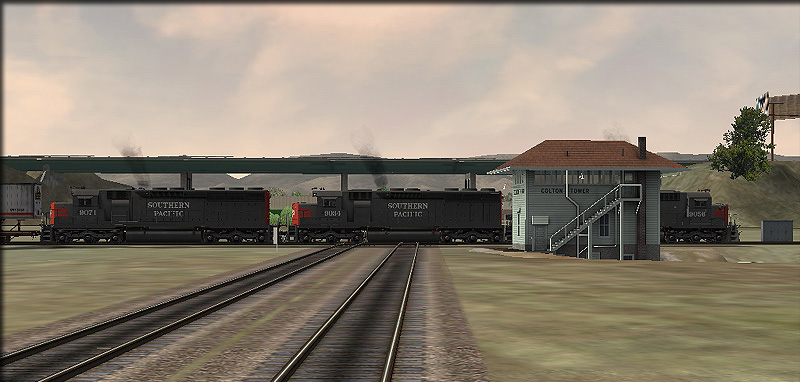 A HIGH PRIORITY SP EASTBOUND CROSSING THE DIAMONDS AT THE SANTA FE CONTROLLED COLTON X-OVER
Transfer Operations
Santa Fe and Union Pacific made daily trips to West Colton to transfer freight cars. These were known as "transfer jobs". Santa Fe usually came into the yard in the early afternoon between 1pm and 3pm to make a drop off, and, then, it would make a pick up before leaving. Union Pacific did the same thing, however, they usually came into the yard very early in the morning between 2am and 4am.
Its worth noting that Santa Fe handled a lot of Auto Racks for SP at their "B Yard". You could almost always count on 20 to 40 auto racks in their transfer cuts. The cuts consisted of both empties and loaded cars. This was also the case with grain cars destined for Cargill at Verde Mont. By the way, Brad once saw one of the these Santa Fe transfers (with around 60 cars) come into West Colton with two FP45s on the point, working hard, in blue and yellow war bonnet paint around 2:30pm in the afternoon. The transfer of cars took place down at the receiving yard west of the Admin Building and left with about 40 cars.
Union Pacific transferred a lot of lumber and coil cars. Empties inbound and loads outbound. And, again, these transfers took place at the receiving yard west of the Admin Building.
Important Note: The GATX facility at the east end of West Colton is responsible for the cleaning and servicing of every tank car on the west coast. This includes northern California, Oregon, and Washington. So lots of tank cars came through West Colton via other railroads and almost every transfer cut had some tank cars destined for this facility.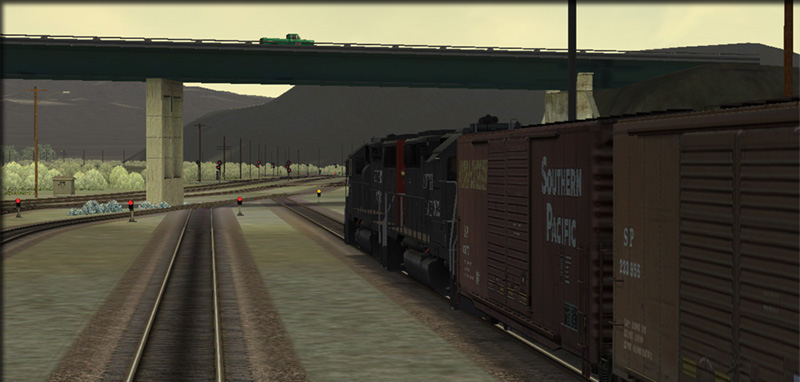 THE LOMA LINDA LOCAL HEADS EAST OUT OF THE YARD AT PEPPER AVE

Local Operations

There were quite a few locals based out of West Colton. These trains would usually leave the yard early in the morning between 5am and 6am and have a four to five man crew consisting of a Conductor, Engineer, Fireman, Switchman, and Brakeman. They would usually make it back to the yard by mid afternoon. The power was usually two GP35s or two GP40s, and the train had a caboose as well.

You had a local called the "Kaiser Hauler" which ran every day and serviced many of the customers west of the yard including the transfer of cars at Kaiser MP 527.5. This train had a lot of coil cars bound for Kaiser, grain cars for Coast Grain, ACF covered hoppers full of plastic pellets for the plastic bottle manufactures at Kmart, steel pipe loads for the Southwest Pipe Co at Kaiser, and tank cars with fuel for the fuel transfer facility out that way.
There was the "Declezville Local" which serviced customers on the Declezville Industrial Lead starting at MP 529.7 (there is a wye junction there).
There was the "Riverside Local" which handled the servicing of customers on the Riverside Industrial Lead starting at Colton MP 539.0 (there is a wye junction there as well). A lot of lumber, steel loads, and refrigerated cars were on these trains.
There was also the "Loma Linda Local" which serviced customers to the east of the old Colton Yard.
Well, that should give you a good start on activity ideas, and, if you have some more that you know of or any corrections, please let us know and we will include them in an update to this manual.
Installation
The route comes on a cd which has an auto install feature on it. Put the cd in your pc's CDROM tray and wait for the installer to come up and follow the instructions. This may take several minutes depending on your pc.
Note: To users running Vista or Windows7 in 64bit you may need to rediredt our installer using the "Browse" button to the (x86) folder that Vista and Windows7 creates on your pc. We don't know why Vista or Windows 7 does this. The pathway should look like this;
C:\Program Files (x86)\Microsoft Games\Train Simulator
System Requirements
Windows 98, ME, 2000, XP, Vista, and Windows7
Microsoft Train Simulator 1.2 (Atari MSTS version will work as well)
MSTS Bin patch v1.8 or better. (MSTS Bin is available from MSTSBin/UKTrainSim Click Here)
1.7 Ghz Pentium-II or equivalent CPU
128Mb 3D Video hardware acceleration or better
Hard drive space needed 360Mb
Credits
Route Development:
John Dunbar, Brad Brown, and Chris Boneli
Asset Development:
Peter Holton, Nigel Apperley, Brad Brown, Chris Boneli, Richard Scott, and John Greenstone
Special Contributions:
Scott Steele at Diesels West - www.dieselswest.com
Dale Miller - Bill Westerhout - Bryce Reynolds
Cathy Dodds (detector voices) - www.secretquiltdreamz.com
in loving memory of
Bruce Bowers (aka The Chief) and Annie (the beagle)